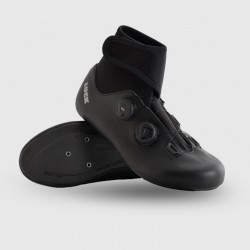 Compra rápida
38
39
40
41
42
43
44
45
46
47
Regular price
€249.00
-15%
Price
€211.65
Compra rápida
39
40
41
42
43
44
45
46
47
38
Regular price
€159.00
-15%
Price
€135.15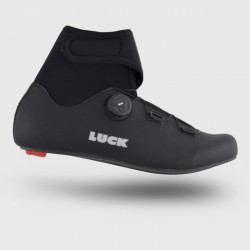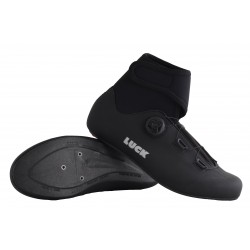 Compra rápida
38
39
40
41
42
43
44
45
46
47
Regular price
€159.00
-15%
Price
€135.15
Road cycling is a form of cycling that is constantly developing in terms of both equipment and materials. It is becoming more and more popular every day. With the aim of ensuring a comfortable, safe ride and top performance, we would like to present our road cycling shoes. They provide the perfect fit, adapting to the shape of your foot, so enabling complete freedom of movement with materials that provide comfort and lightness, while harnessing all your strength every time you push down on the pedal.
Road shoes normally have carbon soles to make them lighter. These soles have studs and have a stud in the heel which guarantees stability when getting off your bike.
The carbon sole gives the sole more rigidity, so enabling all the power to be transferred to the same point. This allows you to pedal faster with less effort, in this way saving energy and helping your body recover more quickly.
The shoes are normally made out of leather or natural microfibres, which help the shoes breathe. These materials provide flexibility, lightness and comfort.
The shoes normally have reel-knob, velcro or millimetric closure systems, which can be quickly adjusted even when sitting on or riding your bike.
FREQUENTLY ASKED QUESTIONS
How do you choose road cycling shoes?

The most important thing to look for when choosing cycling shoes is comfort, as you may be on your bike for hours. Your feet will feel free, with no pressure of any kind.

Carbon soles are a significant attribute for footwear of this kind, as they enable you to transfer all your power efficiently, enhancing your performance and reducing the effort you have to make when riding your bike.

Cycling shoes – with or without cleats?

Cycling shoes should always have cleats. They improve your posture on the bike, preventing injuries.

With your feet tightly fastened to the pedal, you can apply force in both directions, when pushing down and when pulling up, bringing your feet as close as possible to the axis of the pedal, so ensuring a pedal movement with no energy loss.

In this way, you create a broader, more rigid pedalling platform which maximizes the transfer of power from your foot to the pedal, and from the pedal to the road.

What are the benefits of road shoes?

Your position on the bike can help prevent injuries to your knees, ankles and back. The shoes help you maintain a correct position at all times, so preventing your feet from slipping off the pedals. Thanks to the cleats, you can anchor your shoes to the pedal, make stronger movements, stand up on the bike and sustain the right posture at all times, so avoiding injuries and improving your down-thrust on the mountain bike.

What materials are Luck road shoes made of?

Luck is constantly doing research to be able to make shoes of the highest quality, combining the latest technology, tradition and the expertise of its master shoemakers.

These shoes are normally made of leather or natural microfibres, which help your feet breathe. These materials provide flexibility, lightness and comfort. Working in collaboration with the most advanced laboratories, we apply new production systems and technologies that make us more efficient and more competitive for the benefit of our customers.